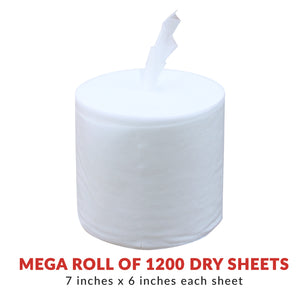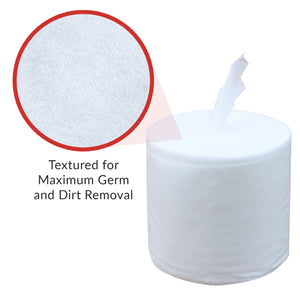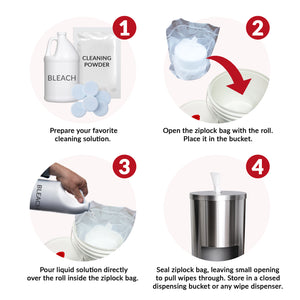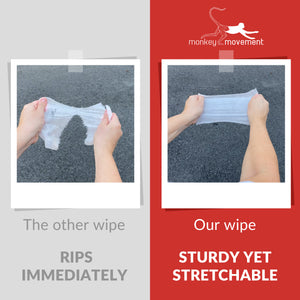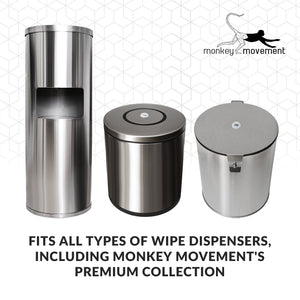 Dry Wipes Kit: 7200 Wipes (7" x 6"): Make Your Own Wet Wipes Using Your Preferred Cleaning Solution: 6 Mega Rolls + 4 Dispensing Buckets
FREE SHIPPING
Ships in: 3 business days
Returns: Non-returnable unless exempted by our Return Policy
Limits: N/A
Notes: Dispensers sold separately


KIT FOR CREATING YOUR OWN WET WIPES: Use any solution to create wet wipes that are antibacterial, disinfecting or sanitizing. Includes (4) wipe dispensing buckets with moisture-sealing caps.


LARGE REFILL ROLLS FOR WIPE DISPENSERS: (6) Large mega-rolls of 1200 ultra-strong, premoistened 7"x6" sheets. Much thicker wipe than most mega rolls. Fit most standing, wall-mounted and bucket wipe dispensers, including Monkey Movement's wipe dispenser collection. (4) Wipe dispensing buckets included.
INDESTRUCTIBLE, ABSORBENT MATERIAL: Our wipes are a tough & textured wipe yet gentle on hands. Add aloe vera and vitamin E in any mild soap solution for a gentle hand or surface wipe.


CREATE SURFACE AND HAND WIPES: Depending on your chosen cleaning solution, you can reduce bacteria on the skin, disinfect surfaces, and clean dirt and grime at the same time. 



| | |
| --- | --- |
| Model: |  MM-WP-2 |
| Bucket Size: | 11" Dx 10" H |
| Bucket Weight: | 1.2 LBS |