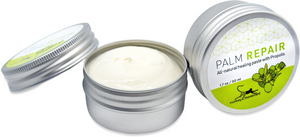 Palm Repair Cream: All-Natural Dry Skin Relief Salve with Propolis and Arnica
An all-natural cream to heal roughed-up hands that get used and abused. Its paste-like consistency coats the hands without affecting the grip, and it's compatible with chalk.
Use it before climbing, gripping a racket, or clutching ropes to prevent burns, rips, and tears. Use it after to nourish and heal rough, callused palms and soles
All-natural formula
A tested tried, and true formulation that works with ingredients you can recognize and pronounce: olive oil, sunflower oil, arnica, beeswax, shea butter, bee propolis, the essence of bergamot, and orange and lemon oil
The MVP ingredients: Propolis and Arnica
Sustainably harvested from the beloved bees of Bracciano, Italy, propolis is nature's cure-all salve. Arnica is nature's magic wand for pain relief.
No petroleum, lanolin, or mineral oils, ever.
Our organic all-natural healing Palm Repair can be used anywhere on your body for any dry, roughed-up, or sensitive skin. Apply to areas of eczema, dermatitis, sore fingers after a climb, or even your face for deep moisture.
Sweat-proof relief for rough, working hands.
Our Palm Paste is great for your bloody knuckles, sore, rough, bumpy skin, blisters, burns.